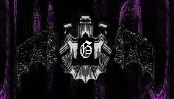 Running From The Dawn – Review Nov 2012
I'm always on the look out for great gothic rock music in this scene. Lately I've been pleased with a number of great bands, we recently did a special on three of these and then right after that I was presented with this great new album and was immediately pleased with the style and direction of the music. I love the style of the early 90′s gothic rock music, but continue to enjoy all the various additions that each new decade brings. Sometimes things grow a bit stale, or coldly bland, so it's nice to go back to some of the roots that have made this scene and musical style so enjoyable in the first place. This nine-track album does just that with each majestic piece.
Overall the first thoughts that come to my mind as I listen to this stellar album is a darker, emotionally driven masterpiece with themes of love, hope, regret, despair and number of other deeply emotional themes. All of that coupled with a nice rock beat, heavy bass, various guitars from a soaring, rock style to more broken, graceful chords coupled with the deep, heavy vocals help to create this powerful music. Several tracks include a soft, subtle violin at times taking a more prominent role along with layers of synthesizers as well. It all kicks off with an instant favorite "My Child" which simply drips with emotion with the angst-ridden vocals and thought-provoking lyrics. One of the key features of this style of music are the emotions that run so deep on each piece, whether they be personal or at a more philosophical level or even focusing on mythology and fantasy which also permeates the scene and just a touch on these pieces.
Favorite pieces really include just about every track on the album, so I'll try and touch on just a few highlights or this will go on way too long. A drummer isn't listed in the lineup, so I'm guess it's all computer or machine drums, but even as such I think they're well done from the break-downs on each track as well as just the selection and solid beats. As previously mentioned, the violin is a very nice addition, especially with a live violinist. It really takes a prominent role on the title track which has an orchestral, soundtrack air to it at the beginning which builds and flows giving way to the rock beat and guitars. On other pieces this live violin coupled with various synths provide an excellent dynamic, bringing out the majestic nature of these emotional pieces. A good solid bass has always been a foundation in the gothic rock scene. On this album it comes out strong, becoming the canvas for the other instruments and vocals to be layered on for the moving, emotional soundscapes. The mix of guitars weave and gracefully create a sound that keeps the listener grounded, a bit of the harsher side of the music amidst all the ethereal pieces previously mentioned in the violin, electronics and synths and they create an excellent medium to help portray the mood and sensitive nature of the lyrics and vocals. The vocals are deep and throaty, almost growling, yet can still be melodic which keeps them in touch with the human, emotional side of this darker, brooding style of music.
There you have it, a great album, definitely a wonderful debut which I think any listener can sit back and imagine what could possibly follow and hope for several more to come in the near future. Don't hesitate to pick this one up.
Rating: 4.5/5