Red Sun Revival, Diary of Dreams – The Purple Turtle
3 November 2013 by Stephen Kennedy

Opposite the famous Koko theatre venue at Mornington Crescent, The Purple Turtle is an altogether different beast when it comes to live music. It has none of the grandeur of Koko, but a kind of rough and ready charm and intimacy, and tonight saw an almost full house witness England V Germany in a friendly music Battle Royale.
Red Sun Revival
The UK's RED SUN REVIVAL are first on tonight, and open with the majestic 'Without You', a deep melancholy underpinning this melodic slice of gloomy gothic rock. And the first thing that becomes apparent is the new vigour to Rob Leydon's vocals. There's more passion than of old, and he succeeds in conveying anger, despair and hope with ease as if an additional shot of confidence has let this remarkable voice finally find itself fully. Hardly surprising. The band have toured and played alongside NFD, SKELETAL FAMILY and THE EDEN HOUSE recently, and have been steadily building up their following and honing their skills. It shows tonight, right from the off. 'Running From The Dawn' benefits from a wonderful, skipping violin, a feature of many of the songs, and Christina Emery gracefully brings the song to life, despite half hiding in the shadows. It's energetic and instantly memorable, and the crowd are fully engaged.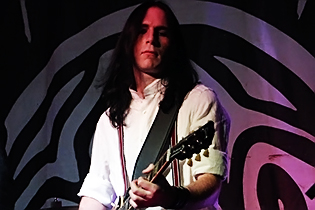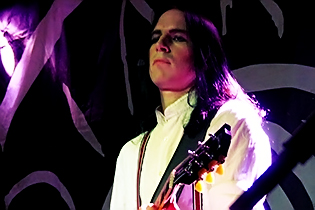 Always brave to play a new song early in the set, but 'Broken' doesn't disappoint and it continues to refine the RSR sound. 'Mistakes', the second new offering is even better, a vast, roiling monster of portentous guitars and anguished vocals, the extended instrumental coda seeing all four members losing themselves willingly in the swell of the moment. There are odd moments when Mr Leydon seems uncomfortable, like he's suddenly found himself on a stage without knowing how it happened. But no matter. Once a song begins, he's right in there, owning it and sending it out like a gift he's particularly proud of. 'My Child', as always, is one such gift, it's a superb song and the band deliver it perfectly tonight. Thinking it's the last, there's grins all around when time allows for one more, and the stately 'Last Chance' draws everything to a close.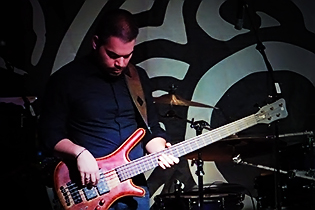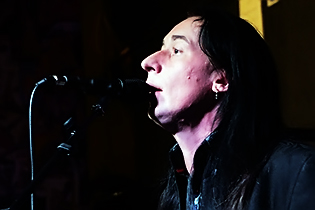 With excellent sound quality throughout, an eager crowd, and a solid set of moody, broody, atmospheric Goth-Rock, this was an exceptionally good performance. Go England!