Red Sun Revival was invited back to Germany to play at the 2-day Gotham Sounds Festival in Hilden near Düsseldorf on 4th May.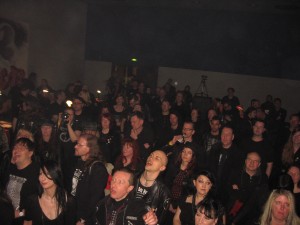 The journey went without a hitch and we were kindly picked up and taken straight to soundcheck at Area 51. Everyone was in good spirits and were very welcoming. We met some of the other bands backstage – the line up for the second day was: Sweet Ermengarde (DE), Red Sun Revival, Winter Severity Index (IT), The Last Cry (UK) and UNI_FORM (PT). It was really good to catch up with Andy, Tim and Chris from The Last Cry as I hadn't seen them since playing together at the Emergency Exit Festival over Easter last year. They'd since been on tour in the US so they had plenty of interesting stories to tell! Ralf, the organiser, had provided us with a buffet which we ravished whilst waiting for soundcheck.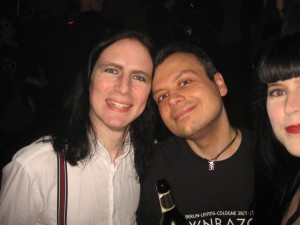 Our gig was well received with some trusty familiar faces in the front row from Greece and Italy as well as some Germans we'd met at Dark Spring Festival in Berlin. Amusingly, our set lists got nicked from stage before we'd played the encore and I couldn't remember which patch to use for Nothing to Hide however it was returned to me just in time! After the gig I bumped into Stephen Kennedy and Marge who'd flown over from London for the festival.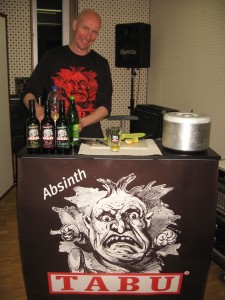 This is where details become a little foggy and needless to say I won't go into too much detail. There was a real party atmosphere at the festival which seeped into our bones and infected us all – I blame Aeon Sable's absinthe sponsor Tabu who were giving us absinthe cocktails backstage (thanks, Nino!). It was good to also meet the guys from Soror Dolorosa from Paris who'd gigged with The CNK the weekend before. One of the highlights for me was to watch UNI_FORM from Lisbon. They were really great live and had some interesting techy things going on.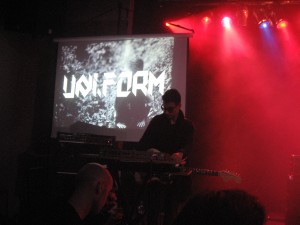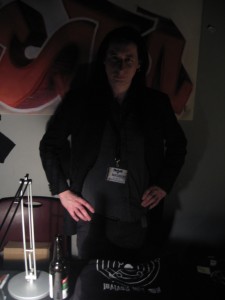 We left in the early hours of the morning and after a couple of hours we managed to get into our hotel *coughs*. After a few hours sleep we headed straight to Düsseldorf. I had a bite to eat in the station and then took the S-Bahn to the airport as I was leaving early to see the Rosa Crux gig at The Garage organised by Flag Promotions that evening. The other guys stayed on for a few more hours, wandering round the old part of the town, eating ice cream (at least that's what they told me… who can know for sure?!). I was excited to use the 'sky train' at the airport which is used as a shuttle between terminals and is a suspended monorail system, how cool!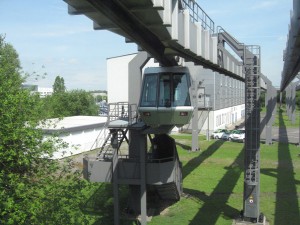 I'd like to thank Ralf and the whole Gotham Sounds team who organised the festival and helped ferry us around. It was great to meet you and share the enthusiasm for the alternative music scene. Thanks also to the other bands who were playing and of course to everyone who turned up to join in the party. Hope to see you in Europe again soon!