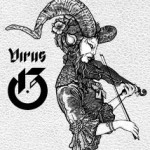 September 2014 by DJ Billyphobia
Hailing from London and formed in 2011, Red Sun Revival already made a striking impression with their debut album "Running From The Dawn". Assembled by the singer and composer Rob Leydon, the quartet quickly became one of the favourite new names arisen from the UK's goth sphere and have even picked up many followers in Europe and beyond. But this certainly is no wonder since Red Sun Revival is like a genuine, unique brandy – once you become accustomed to its bitter-sweet taste, it's all you will ever want for those very special occasions. Arguably, this band has forged its own recognisable style by merging Gothic Rock with elements coming from Folk and orchestral music. Now they are back with a new four-track EP, entitled "Embers", which highlights the more intimate and dreamy aspect of their music.
In comparison with its predecessor, this work is essentially conceptual and darker as it's based on Rob's murky interior self at the time of composing. Consequently, "Embers" delves deeper into melancholy while giving rise to a strange cozy home feeling in the listener. As in a sort of self-exorcism, Mr. Leydon casts out his demons through affectedly husky baritones. Co-operating this eviction ceremony is bassist Panos Theodoropoulos, whose strategic thrusts gradually lead us towards a veiled sound plane. Within that haunting yet charming kind of limbo, Matt Helm (guitar) and Christina Emery (violin) channel the sung torrent of emotions into flawless, labyrinthine harmonies that never fail to send shivers down the spine. Furthermore, "Embers" has been mixed and produced by the renowned Stephen Carey (This Burning Effigy, Adoration, NFD, The Eden House) who, as the expert in sound texture, atmosphere and arrangements that he is, has managed to lend an appropriate final finish to this EP. Moreover, the presence of Simon Rippin (Nefilim, NFD, Adoration, The Eden House) as guest drummer can be sharply felt in these songs too. All of it, along with an improved songwriting – specially in terms of balance and assortment – means a step forward for a band which nevertheless stays true to its distinctive style.
"Mistakes" performs the unveiling honours, powered by bouncy violin chords and steady drum beats. It's the more lively tempo song in this EP so choosing it as advance single was a wise decision. Rob's passionate, remorse-shattered vocals and their iridescent guitar echoes resonate throughout the track and strike deep within the listener. Both the stringed and synthed lines are piled in layers forming a lush, misty backdrop, and the wailing guitar solos become memorable projected on it. Conversely, "Broken" slows down the pace and certain coldness takes root in the sound environment. Chilling bass throbs and muffled metallic percussions are set in a bleak contrast with pristine, delicate chords and, thereby, a sharp sense of floating is provided. Then, paired vocals and fiddles soar over the structure while flooding it with their gloomy harmony. Additionally, some processed chants give a mysterious, near-death edge to the piece. The starting piano notes of "Surrender" quickly tune us with the resignation and abandonment addressed in the lyrics, creating a suitable climate for the tormented, gravelly laments of the singer. Flowing around the decadent dandy, somehow an spectral choir of string-mourners spreads a joint captivating melody. But the best is kept for the end of the trip, when the impressive "Embers" is launched off. All the aforementioned virtues converge in this emblematic closure, being ramped up to high emotional voltages for an even more thrilling transmission. It's the perfect crowning touch to this shady, though achingly beautiful and comforting, musical story which, besides filling the gap between the band's first full-length album and the forthcoming one, gifts us with an enrapturing refuge to turn to when the raindrops hit our windowpane.